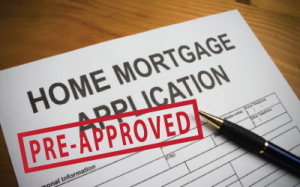 Step 1 - Get Pre-Approved for A Home Loan - Before you get overly zealous about looking at houses you should take the time to get pre-approved for a home loan (visit the Mortgage Loan Professionals page). Buyers often want to jump on out there to see what's available and then do the pre-approval thing later. But, putting this important step off will discourage your realtor from taking you seriously and making your needs a priority. It will also put you in a vulnerable position, because in the event you find the house you love, and want to make an offer on, it might not be considered because you haven't been pre-approved for the loan.
It takes very little time to pick up the phone and call a home loan officer. Over the phone, you can give minimal information including permission to run your credit and within a few hours to a couple of days you will know some important facts such as: how much home loan you qualify for, what type of loan best fits your needs, and how much money you will need to make the purchase.
Here is a caveat to remember! You might be pre-approved for a monthly mortgage amount of $900.00 but does that mean you can comfortably afford it? This is where you reign in that zealousness by refusing not to overspend on a house. You may love the house that a $900.00 payment can purchase but just as quickly as you fall in love with the house you can also fall out of love with it if the monthly financial obligation is hindering you from affording an enjoyable lifestyle.
Enough about that, let's get back to the steps of getting pre-approved. It's quite simple! Just pick up the phone or send an email to your lender of choice. If you don't have one, give me a call and I can give you some names. The loan officer will ask about your debts, your income, and for permission to run your credit. Initially, the loan officer will give you a pre-approval letter. This letter means that based upon the information you provided, that you are approved for XXX amount of home loan. However, all this info must be verified, as well as job employment. If this information passes with flying colors, you now have ventured further into your approval process.
This pre-approval process has proven your credit worthiness and your ability to make the monthly payments. But it's still not a guarantee that you will get the loan. Sounds a little crazy, doesn't it? What the lender wants to know now is if the house you've selected passes appraisal value and condition. And, if it does, woohoo! You now have the guarantee of a home loan (IF) you don't make any changes to your financial status from the time of your pre-approval to the day of finalizing the purchase of your home. Don't worry! Your lender will instruct you in the do's and don'ts while you're seeking loan approval.
With this 1st step behind you it's now time to take the 2nd Step which is to select a REALTOR.