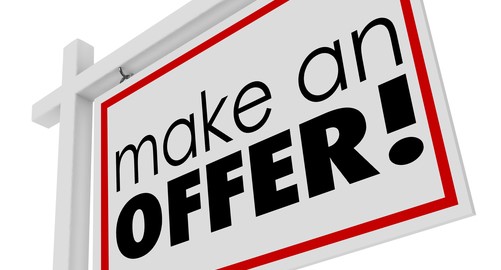 Now that you've settled on a property you should be prompt about meeting with your realtor to make an offer. Lag time (or the time you take to think about it) can result in a lost opportunity. The only thing for certain in real estate is that it's unpredictable. A property can be on the market for months without any serious activity and then suddenly on the same day multiple offers can be presented. If this is the case, it becomes the listing realtors responsibility to disclose that multiple offers will be considered.
How much to offer on a property is your decision. Your realtor cannot and should not make that decision for you. However, your realtor can and should provide you with information on properties that have sold which are similar. With this info you can approach the offering process with confidence that you are not paying too much nor offering too low.
There are a variety of ways to write up your offer. Much depends upon what's important to you and what is permissible by loan standards. For instance, do you need closing cost covered? If so, you should be open minded about offering higher. You may be hesitant about conditions, loan terms, etc. The contract defaults to several contingencies that protect you and give you a legal out in the event conditions are not to your favorable terms.
Upon completion of the offer your realtor will be prompt to pass it on to the listing realtor and then the negotiations begin. Step 6 NEGOTIATIONS
The Oklahoma Real Estate commission provides a detailed booklet on the buying process. It can be downloaded at this link.